Investment of £5,000 is required over the next 3 years, to:
• re-cover the first tunnel
• plant windbreaks and orchards
• buy tools for volunteering activities
• upgrade our tractor
We aim to raise at least £1,000 per year from individual and community investment. Staff and other revenue costs will be met from income generated by sales of produce.
The Benefits!
Your money will generate a significant 'social return'. All shareholders will be welcome to visit the Market Garden (by prior arrangement), and will receive invitations to special events and activities, including picking your own fresh produce, according to the season. Individuals and families will be encouraged to contribute to work on the site and in any other way they choose. We will send regular e-newsletters to keep shareholders and other supporters updated on activities at the project. Shareholders receive a complimentary branded jute bag, and a discount on veg delivery (but do not have to be customers).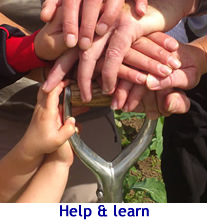 Visit our Support Us page for more information and to apply for shares.